LAHORE: Young people explored a range of cultural and social issues in paint-on-wall in a street art competition held across Gulberg on Sunday.
Some 650 student teams and scores of families painted murals on blank walls in Main Market, Mini Market, Firdous Market, Hussain Chowk, Centre Point, MM Alam Road, Chaudhry Zahoor Elahi Road and Hali Road.
Cultural identities, the environment, education, historical monuments, dengue prevention and blood donations were some of the popular themes tackled by the street artists. Some addressed more complex issues.
Three UET students painted a mural with seven characters, wearing black and white suits, each symbolising a fundamental right that every citizen should be entitled to exercise freely.
"There's freedom of religion, speech, association … those are a few," said Samaaya Javed, an architecture student, as she labelled the figures painted on a wall along the footpath near the Cavalry Ground turning from Main Boulevard.
Many families took advantage of the free registration to participate in the event as a fun thing to do on a Sunday. Itral Gul, a former Kinnaird College student, came with her siblings.
"I received a text message from the Message Welfare Trust a few days ago. I had participated two years ago with my Kinnaird classmates and knew that it is great fun," said Gul, as she and her brother painted a desert landscape of Balochistan. "I was good at painting landscapes and I decided to do something I was good at," she said.
Most of the medical students painted images aimed at spreading awareness about dengue prevention or the importance of blood donations.
Seven King Edward students, who had earlier in the day helped students paint in Firdous Market, sketched two hands holding a halved heart. Dark shades were used to represent an electrocardiograph. "This signifies how a single blood donation can sometimes save a life," said Mohammad Fahad, one of the artists.
Hira, a final year product design student at the National College of Arts, and her three friends painted basic cultural symbols of the four provinces: a camel representing Balochistan, an Ajrak pattern signifying Sindh, the Badshahi Masjid representing Punjab, and trucks representing Khyber-Pakhtunkhwa.
"Most students are sticking to one cultural theme for their work, but we decided to do something with more of a national vibe," she said.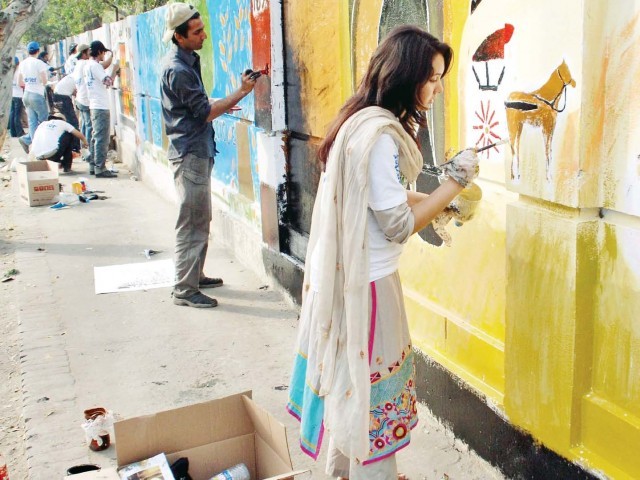 Hina, who runs an art institute in Gujranwala, came to Lahore with three students for the event. They painted the Government College University building and stencilled in images of Arfa Kareem, the IT prodigy whose death earlier this year left the nation saddened, at various ages across the mural.
"She was as bright a star as one can get in Pakistan's schools and a powerful inspiration to many aspiring IT professionals," said Hina. "I think she makes the mural contemporary and forceful."
Two murals in particular were widely appreciated: a portrait of singer Abida Parveen painted by an NCA student, and a scene from the Shandoor Polo Festival by students of the Arts and Design Institute of Punjab University.
Mudassar Zia, the founder of Message Welfare Trust, the organisers of the event along with sponsor Master Paints, said 650 teams had registered for the even on Facebook. The organisers arranged transport for the registered participants across Gulberg. The participants included people from Gujrat, Gujranwala, Faisalabad and Sargodha, he said. The event started at 8am and ended at 5pm.
This was the third in a series of four street art events organised by the Message Welfare Trust and Master Paints. Murals were earlier painted on March 4 and March 11 at Egerton Road and Johar Town, respectively. On March 23, all registered participants will attempt a Guinness World Record for a 40,000 square feet painting at the Hockey Stadium. The name of the competition winners will also be announced then.
Published in The Express Tribune, March 19th, 2012.
http://tribune.com.pk/story/351824/street-art-competition-students-paint-gulberg-town-red-green-orange/