Pakistani students broke the Guinness world record on Friday by painting the world's largest canvas to mark the Pakistan Day. The painting of the Pakistani flag, measuring almost 42,000 square feet was made by 1300 male and female students at the National Hockey Stadium.
Students from different educational institutions took part in painting the huge flag.
The event was organised by the Message Welfare Trust, a youth-based organisation that has been holding street art competitions for the last three years to discourage wall chalking, in collaboration with the Punjab Sports Board. According to Message Welfare Trust President Mudassir Zia, his organisation had started the Street Art Competition (SAC) to replace wall chalking with paintings structured around the culture and traditions of Pakistan.
In the third season of SAC, around 2,350 participants painted 270 walls in different areas of Lahore in an attempt to beautify the city with positive Pakistani themes.
The Message Welfare Trust team later took on the challenge of painting the world's largest canvas painting to show the world the unity and courage of the nation's youth.
The record for the world's largest painting was previously held by Nigeria, where a 350-member team painted their country's map on a 34,000 square foot canvas in 2010.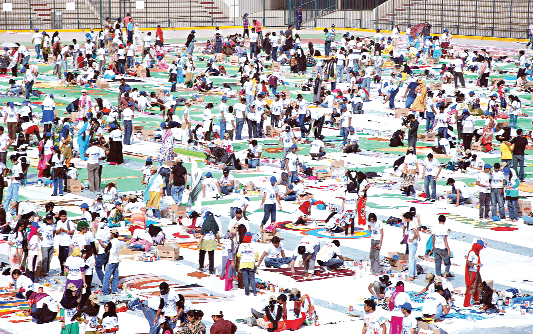 http://www.pakistantoday.com.pk/2012/03/24/city/lahore/students-paint-%E2%80%98world%E2%80%99s-largest-national-flag%E2%80%99/